Ohio Valley's Number One Choice
Pest Control in St. Clairsville, OH
Buckeye Pest Management Inc. Wins the Battle against Pests
When you need a highly effective company for pest control in St. Clairsville, OH, call Buckeye Pest Management Inc. We are on the front lines in the battle against a wide array of pests that can infiltrate and damage your home or business. We offer a complete range of pest control services for both residential and commercial applications in the Ohio Valley. Do you need experienced, reliable, and modern pest control? Count on Buckeye Pest Management Inc. to provide comprehensive and affordable residential and commercial services. We are the number one choice in the service area for real estate inspection services. Our team offers no binding contracts, prevention programs, and the latest treatment technology.
Some of Our Pest Control Services Include:
Bed Bugs
Termites
General Insects
Ants
Bees
Wasps
Hornets
Mice
Rats
Rodents
Roaches
Spiders

Flies

Mosquitoes
Ticks
Residential and Commercial Services

Real Estate Inspection Services

No Binding Contracts
Prevention Programs (Service Plans)
Latest Treatment Technology
Free Estimates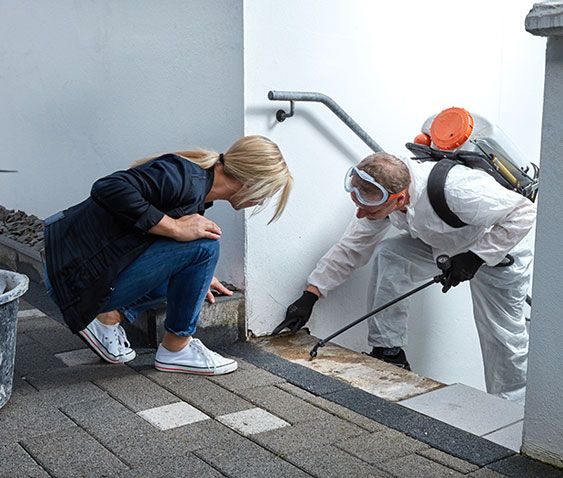 We Do not Require Customers to Sign Long-Term Contracts
Whether you have pestilence problems at home or at your business, you can count on Buckeye Pest Management. Our team rids you of those insects and vermin safely and efficiently without obligation of a cumbersome long-term contract. We train our licensed technicians to root out and rid troublesome pests from homes and businesses. We use products and procedures that are state-approved. Our family-owned business provides the kind of courteous, personal service only a family business can offer.
Our Team Makes Sure Your Unwanted Guests Never Return
Our integrated pest management, maintenance plans, and some property owner preventative measures can keep pests from returning in the future. People think that dirt, grime, and dust draws in pests. No matter how clean your home or business is, small unwanted visitors can enter buildings on pets, shoes, and clothes. Buckeye Pest Management have been moving those unwanted visitors out by force with our residential and commercial services for years.